Multiple saw MRS 350
Multiple saw with the same characteristics that the multiple saw MRS300-A mais with a tapis of 350 MM and a motor of 75 CV
Hereunder, the characteristics and pictures of basis model
MRS300-A :
PICTURES OF THE MACHINE :
AUTOMATIC MULTIPLE RIP SAW 50 ch – CE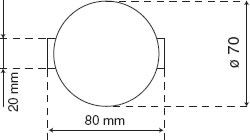 CHARACTERISTICS
AUTOMATIC MULTIPLE RIP SAW
50 CH – CE Type MRS 300A
– Voltage : 380 V
– 1 bushing blades holder with rings and flange diam. 115 mm
– Maxi Height of piece until 120 mm with flange diameter 115 mm and blades diameter 380
– Width tapis 300 mm
– Interlock with solenoid to the access of blades group with opnly opening when complete stop of shaft.
– Automatic motor brake to the tapis, micro-switch of security to the table for the maxi width of piece.
– Bright sign for level of oil for the lubrification of tapis
– Addition of anti-blowback segments on all in front of the machine
– Conformity certificate Norm CE
– Electric rise of the brace.
Maxi thickness of cutting : 120 mm
Maxi thickness of cutting up : 95 mm
Maxi thickness of cutting up for the models CE : 110 mm
Maxi width of cutting up : 300 mm
Distance of the column to the  center of the chain-guid : 360 mm
Mini length of working :     300 mm
Maxi diameter of the saw blade : 380 mm (15")
Maxi diameter of the saw blade for the models CE : 350 mm (14")
Mini diameter of the saw blade : 250 mm (10")
Diameter of the saw blade : 70 mm
Diameter of the shaft of the saw :
50 mm
Speed of the shaft of the saw : 3800 tr/min
Motor  of the shaft of the saw : 30, 40, ou 50 CV
Supply motor : 2 CV (4P/8P)
Supplu motor of transformer (in option) :    3 CV
Variable speed enter : 7.5 à 30 m/min
Variable speed enter of transformer (in option) :       2.5 à 24 m/min
Diameter os sensor of dust : 2 x diam 150 mm ou 1 x diam 200 mm
Height of table : 740 mm
Area of table : 1530 x 760 mm
Size of the machine : 2100 x 1500 x 1435 mm
Size of packaging : 1800 x 1700 x 1600 mm
Net weight : 2050 kg
Brut weight : 2300 kg